All-American Fourth of July
Celebrate an All-American 4th of July aboard the Queen Mary. Choose your favorite era of Independence to salute or stroll from decade to decade with the entire ship as your playground.
Listen to live music, learn your favorite American jig, and lounge all day enjoying family-friendly activities. With a giant fireworks extravaganza and unforgettable family fun, 4th of July aboard the Queen Mary (12 - 11PM) is the ultimate Southern California tradition.

4th of July Video | Know Before You Go | Download Your 4th of July Photos

Please note: You MUST have an All-American Fourth of July ticket to board the ship on July 4.

Please NOTE all PROMO CODES are valid on adult General Admission tickets only.
ENTERTAINMENT:
---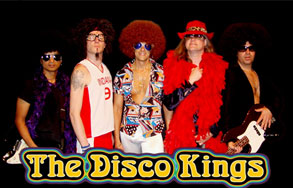 The Disco Kings
One of the World's Premier Disco Tribute Bands, The Disco Kings, are back by popular demand to transform the Queen's Salon into a Boogie Wonderland. 2Authentically reproducing all of your favorite disco tunes from the 1970s while donning their disco duds and delivering dance moves that dare you not to shake your money maker...more info.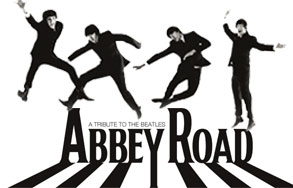 Abbey Road
With their tight harmonies, flawless note for note renditions of Beatles hits, custom–tailored costumes, vintage instruments, Liverpudlian dialect and precise attention to every detail, Abbey Road has honed their show to become one of the most musically and visually satisfying Beatle tribute acts in the world...more info.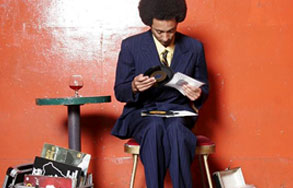 DJ Dennis Owens
A Queen Mary regular, DJ Dennis Owens, the co-founder of The Good Foot and one of Long Beach's finest masters of music, will be spinning all of your favorite dance tunes and popular hits of yesterday and today.
Satin Dollz
Sail into the 1940s with Hollywood's premiere USO entertainment act, the Satin Dollz. This stunning ensemble of singing, tap dancing, and downright charming ladies deliver their signature patriotic evening of entertainment that recalls the golden age of the Hollywood Canteen, Copa Cabana, and Bob Hope's WWII USO tours...more info.
Maureen & The Mercury 5
Maureen & the Mercury 5 is the secret sideshow of lead singer Maureen Davis of THE FLUTTERBIES, and all-star bassist Steve Whalen, also of THE FLUTTERBIES. The band draws it's sound from late 50's and early 60's Jump, Swing and Rockabilly, featuring not only originals but covers by Elvis, Stray Cats, Bo Diddley, Chuck Berry, Buddy Holly, Bill Hailey & His Comets and Ann Margret...more info.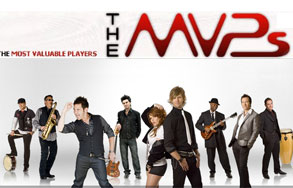 The MVPS
The MVPs "The Most Valuable Players," from Southern California, are one of the top musical acts performing today.

A collection of world class talents, they have been wowing crowds around the country with their spectacular performances for years...more info.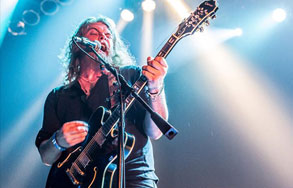 Robert John and the Wreck
Grab yourself a cold one and get ready to move as Orange County's reigning "Best Live Band," Robert Jon & the Wreck, ignite the Queen's Salon stage. Fully charged after their "Rhythm of the Road" 16-city tour, the Wreck's dynamic presence and lionhearted rock 'n' roll will bring you to your feet...more info.
Magic!
After years of making his friends smile by performing magic for them, Scott Marshall packed up his case and hit the mean streets of Los Angeles - now entertaining thousands of people...more


Q'Tease
Bling Divas Entertainment captures the spirit and energy of the roaring 20s, 30s and 40s with its highly exuberant Q'Tease show - a vintage flapper cabaret featuring all of the fun music of those decades-past (The Charleston, All That Jazz, Mein Herr, Diamonds Are A Girl's Best Friend and even some fun Burlesque surprises!)...more.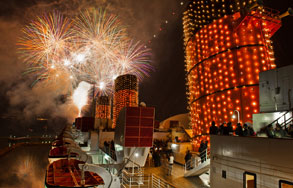 Fireworks!
The highlight of the evening is the giant fireworks extravaganza. From the deck of this grand old ocean liner, you'll have a view like no other.
---
1910's – Old Time Fair featuring vintage carnival games & activities (Wharf) 12-8PM
1920's – Gatsby Buffet featuring Flappers and Jazz $39.95/pp (Grand Salon) 4-8PM
1930's – Royal Speak Easy featuring Live Jazz & Cabaret (Royal Salon) 12:30-9PM
1940's – VIP USO Tour featuring Wartime Armed Forces Radio Shows & Entertainment (Capstan Deck: VIP Only) 12:30-9PM
1950's – VIP Mary's Soda Hop featuring nostalgic Juke Box Favorites, Lindy Hoppers, Hula Hooping & More (Britannia Deck: VIP Only) 12-9PM
1960's – Back to the Beach Bash featuring Abbey Road Beatles Tribute & Elvis Presley Tribute (Britannia Salon) 1-9PM
1970's – Studio 54 featuring Disco Kings & Special Guests (Queen's Salon) 12:30-11PM
1980's - Day Glow Arcade featuring Mrs. Pac Man, Donkey Kong, Pole Position, Centipede, Air Hockey, & Giant Connect 4 (Exhibit Hall) 12-8PM
1990's – Raver's Rage featuring Laser Tag (Exhibit Hall) 12-8PM
2000's – Y2K Sci Fi Parlor featuring Parlor Magic, Sci Fi Adventure Pics, Potions Bar, and Candy Shop featuring a tribute to the Confection Queen, Katy Perry (Verandah Grill & Deck) 12-11PM
2010's – MyFM Social Media Lounge & Digital Deck featuring Xbox 360, Wii Connect, Video DJ Dance Party (Sports Deck: VIP Only) 12-11PM
FIREWORKS 9PM
Ticket and Parking (PARKING IS SOLD OUT - please visit our KNOW BEFORE YOU GO PAGE for ALTERNATIVE PARKING OPTIONS) Information
• All-American General Admission Pass: $39.99 (until July 3 - $45 day of the event)
• All-American Child Pass (4-11): $19.99 (until July 3 - $25 day of the event) Children 3 and under are free
• Salute the Troops Pass: FREE - Active Duty Military/Military in Uniform with Military ID at the Door Only. Also $5 off general admission for Military Veterans with proof of service at the box office.
• Queen Mary Parking HAS SOLD OUT. Check out these options for public transportation - the Passport, the AquaLink and the AquaBus.  or visit our KNOW BEFORE YOU GO LINK above for more information on our parking options. 

You Matter Bike Tour
Veterans Ken Carr, Bryan Howard and Steve Redmond are riding bicycles 5,000 miles from Long Beach, NY to Long Beach, CA to help raise awareness of veterans suffering with the invisible wounds of war and to raise money for The Intrepid Fallen Heroes Fund, which serves United States military personnel wounded or injured in service to our nation, and their families. The Intrepid Fallen Heroes Fund will insure that 100% of the funds raised will goes directly towards the design and construction of nine state-of-the-art special treatment centers for veterans suffering with TBI's and PTSD and to raise.
The three riders will arrive in Long Beach at the Queen Mary on July 4 at 11AM. Meet up and ride in with the veterans - the route will start from Outspoken Bike shop in Huntington Beach and ride 20-30 miles up PCH before ending here at the Queen Mary or cheer on over 100 Southern California cyclists who will ride the final 30 miles in support of these three Warriors and ALL of our American Soldiers. At 11:30AM, The Queen Mary's All-American 4th of July Party will kick off with the raising of a very special American Flag - delivered by the You Matter Bike Tour warriors whom carried the flag the 5,000 miles from the Intrepid, and raised by Commodore Everette Hoard in salute of their accomplishments and in honor of ALL of our American Troops & Veterans on this glorious Independence Day.


Tours and Attractions
For the All-American Fourth of July, the usual Queen Mary passport packages will not be available, however each of our tours will be available for purchase à la carte at the Queen Mary box office.
The All-American Tour ($9.95) - Departs hourly from 12 - 7PM
Ghost and Legends ($9.95) - Departs every 30 min from 11AM - 7PM
Haunted Encounters ($9.95) - Departs hourly from 12 - 7PM
The Scorpion Submarine Tour ($9.95) - 11AM - 7PM
Diana: Legacy of a Princess ($9.95) - 11AM - 7PM
The Queen Mary Story (Free) - 11AM - 7PM
The Audio tour will be unavailable during the Fourth of July Celebration. We do apologize for the inconvenience.
(Note: Hotel guests only 11AM - 12PM).
Dining Aboard the Queen Mary
The Queen Mary will open all of her restaurants for extended hours to celebrate the holiday with All-American themed menus.

Each of our restaurants will operate on a first-come, first-served basis.

Promenade Cafe: 6:30AM - 10PM (breakfast, lunch, dinner - menu)
Chelsea Chowder House: 3 - 10PM (lunch, dinner - menu)
Sir Winston's: 5-7:30PM first seating (menu) / 8PM-close second seating (menu).
The Tea Room: 11AM - 9PM (lunch)
Observation Bar: 11:30AM – CLOSE (lunch, dinner)
In Room Dining: 7AM - 1AM (breakfast, lunch, dinner)
All-American Buffet (menu): 4-8PM (lunch, dinner $39 GA/$19 Child)
All-American Quick Bite Stations: 2PM –CLOSE (lunch, dinner) 11 BBQ, Pizza, Hotdogs and Hamburger stations will be available on the Promenade Deck, Sun Deck and Sports Deck.
Important Info
The following is a list posted of prohibited items for this event: no coolers, chains/chain wallets, outside food & beverage, camelpacks, tents, umbrellas, chairs, professional cameras, stuffed animals, pets, drugs or drug paraphernalia...All confiscated items will be saved and disposed of in a proper manner. No re-entry.